Okay,so I decided to post about my latest favorite series, Reign and my favorite couples in the show since that's mainly what the show seems to focus on in the beginning of the show until the end of season 1 (Yes, the show ended it's first season already and the second season starts in October so I'm trying my best to catch up with Season 1 so I'm not left behind so basically I have about 5 more episodes till the end.) There's a little bit of love along with some killing, supernatural belief and an amazingly evil queen of France not to mention an insane King of France (Really, can French court be anymore exciting?)
1. Mary and Francis (Team Frary)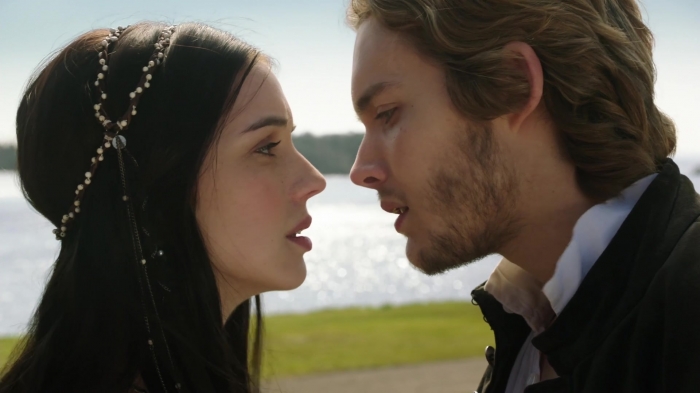 Mary: Why can't we just get along???
Okay, honestly speaking I was annoyed with Francis in the beginning that I wanted to go over there to hit him on the head for being such a jerk to Mary who was only trying to be friends again with him since they are engaged to be married. It took Francis about 7 episodes before he's finally realized how important Mary is to him but thankfully now (SPOILER ALERT for those who have not watched beyond Episode 12!!!) they are married for about 2 months or more. Mary wasn't my favorite character too when she went a bit over the top with thinking she has to protect Francis (as if he's incapable of taking care of himself!!!) due to some ridiculous prophecy that he will die if he marries Mary (Talk about taking the idea that marriage is the ultimate torture for a man to be bound to one woman for the rest of his life to the next level!!!) She then tries to do something impossible that has never been done which is to declare King Henry and Queen Katherine's marriage void in the first place which meant that instead on Francis becoming King, he would lose his throne and be exiled (How is that love again???) and instead Bash, Francis's half brother would be the next King of France so she would marry Bash to save Francis and keep Scotland safe (How is this a logical solution exactly? She marries Bash because she loves Francis? And how is it that Mary doesn't lose much but the man she loves while Francis loses everything?) And Francis wasn't helping his case by trying to keep his ex-lover in court which annoyed Mary so much that she ended up kissing Bash and Francis sees them kissing and gets mad (Can Francis be anymore dumber? I mean he started it so how can he expect Mary to just accept that his ex-lover is staying in court with them???) Francis needed another hit on the head of being mad at Bash and Mary plus he allows Mary to be with other guys but not his brother while he gets to rendezvous with his lover, Olivia!!! I always knew that guys were so confusing but not to this extent!!!
Mary has the best of both worlds and yet she is never happy!!!












Why can't Mary just make up her mind instead of making them both suffer????
Happily Ever After doesn't seem to last long in french Court...


Because I'm Team Frary all the way!!!




Thankfully, this crazy love triangle (or was it a square?) worked out and now they are happily married...Now if only Mary can resolve this little problem with Lola who is pregnant with Francis' child after they happened to stumble into each other's arms...I really can't forgive Lola for getting in the way plus she annoyed me by being jealous when her guy, Colin was being overly friendly with Mary that somehow I'd wish that she had died instead of the innocent Aylee who died such a tragic death indeed...
2. Team Mary and Bash (Team Mash)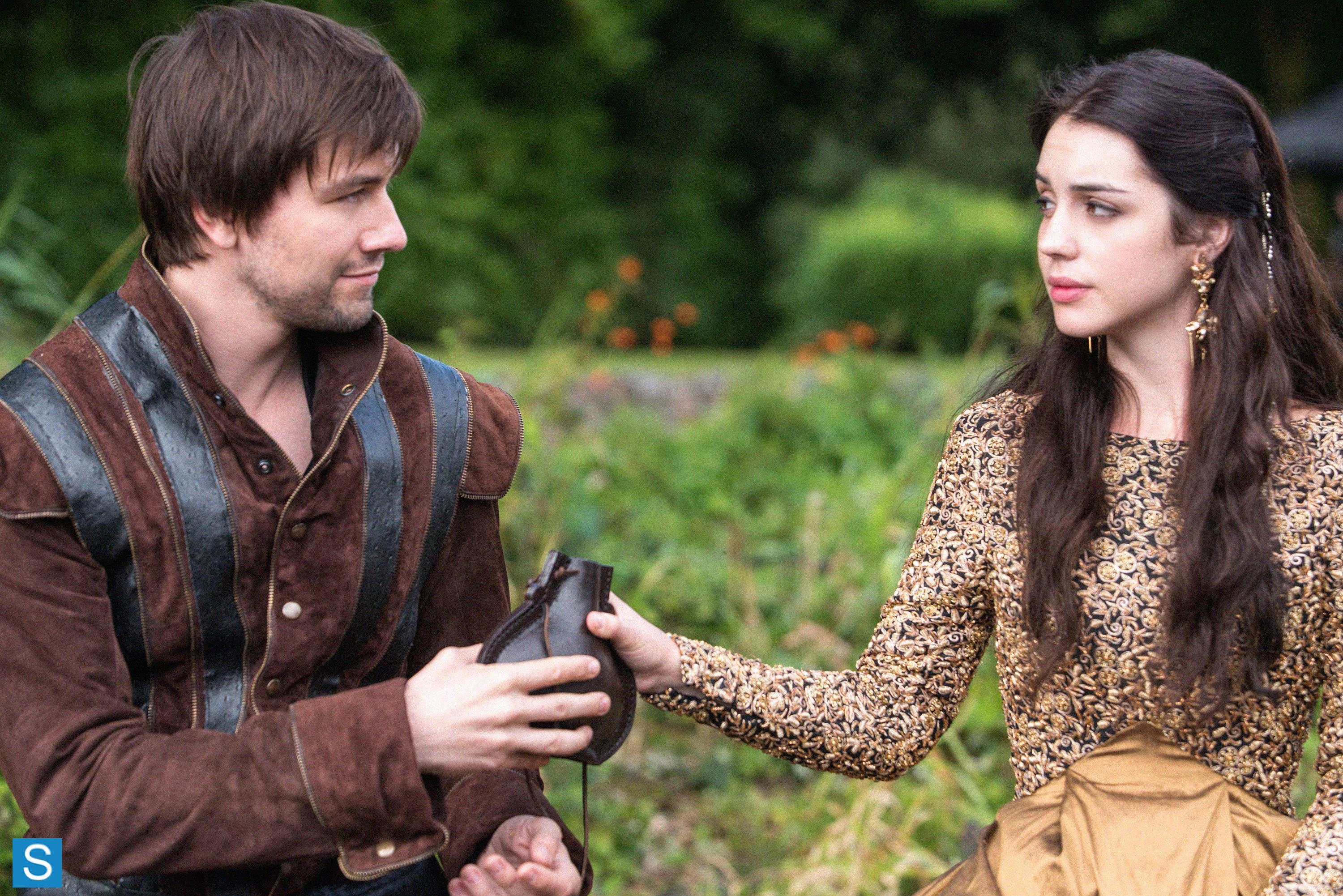 How about drinking like a man does, Mary???
Since I can't have Francis, you will have to do, Bash.
Okay, I can't help but side a little with the 'bastard' son who has always lived under Francis, the true heir of France's shadow and who happens to be in love with the same woman as his half-brother. Mary didn't help her case by continuing to rely on Bash rather than Francis to help her because apparently she can't trust her future husband but she can trust her future husband's half-brother. And when the first sign that Francis would die if he married her, she ran off with Bash who was running away for his life at the same time who decided to accompany her (Yeah, a brilliant idea as apparently he had forgotten that Mary is the Queen of Scotland and therefore she has a huge target on her back!!!) Bash goes along with Mary's plan to disinherit Francis although he had stated earlier that he didn't want the throne but apparently he's taking his brother's inheritance with a heavy heart (Who would actually believe that???) to save his brother's life. The plan ultimately fails because it wasn't even a brilliant plan in the first plan since Mary is planning to claim her right to the throne of England against Elizabeth (Soon to be Queen Elizabeth I) using the excuse that Elizabeth is a 'bastard' but she wants to legitimize Bash who is illegitimate!!!
I like that Bash brings out a wilder side to Mary and he seems to trust her judgement but honestly I just knew this love story wasn't going to last long. Alas, Bash is now stuck with Kenna, another lady in waiting to Mary who can't seem to behave herself but it seems that marriage is starting to bond Kenna and Bash together.
Not a very happy marriage picture indeed!!!
3. Team Leith and Greer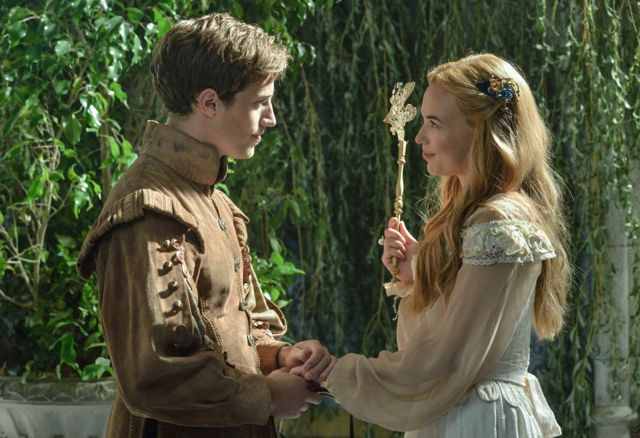 If only Leith was rich then this story would have a happy ending!!!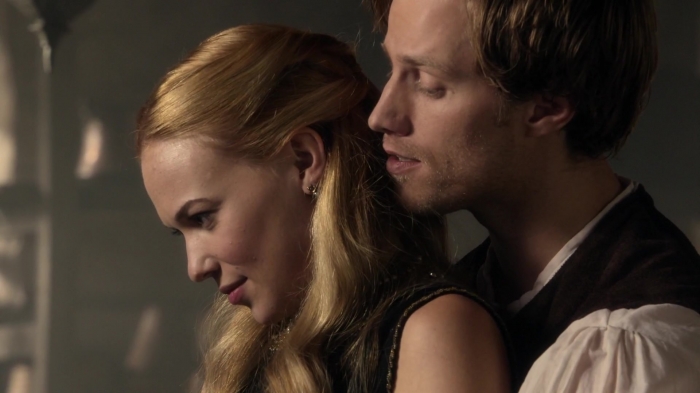 My heart fluttered as I watched this scene!!!
If only this love could last!!!
Okay, in my opinion, this was one of those couples that I can't help but smile as I watch them together. A lady in waiting to Mary who has to marry a rich nobleman for her family's sake ends up falling in love with a kitchen boy who later becomes a soldier (Leith is seriously going through some major upgrade!!!) Their little get-together was unintentional but nontheless it was quite a pleasant surprise and it's great to see Greer so relaxed and she's even willing to put on a kitchen maid's costume to go out with Leith. I loved the fact that Leith is willing to do whatever it takes to keep Greer safe that is he was even willing to take the blame when Lord Julian walked in on them as they were caught kissing. If only Greer can get it into her stubborn little mind that Leith is the perfect man for her even if he isn't rich but no, she just has to do what's right for her family and she shuts Leith out whenever she sees a rich nobleman who is single!!!
4. Kenna and Bash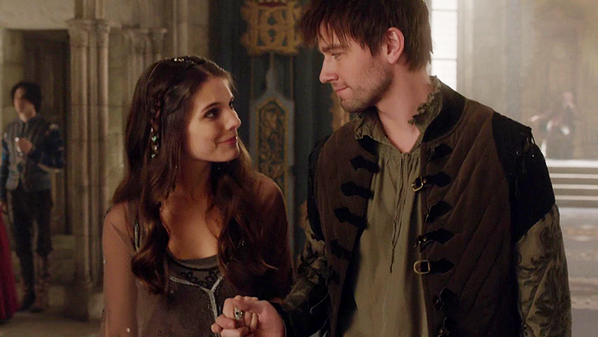 That smile on Kenna's face is priceless!!!
Finally they both find love!!!
They got off on the wrong foot after they were forced to marry each other in order for Bash to remain at court and not as a threat against Francis plus Kenna was a little too greedy as she should have known how sneaky the King of France can be after lying to her about making her his official mistress then, offering her guys who can't put up with her and now he's forced her to marry his son after getting bored of bedding her but he want to continue sleeping with her even after she's married to his son!!! (Seriously, how is incest fine in that time???) I love the fact that Bash is quite protective of Kenna against the King, his father and slowly Bash melts away Kenna's cold heart by being a good husband to her. Kenna has really matured in the show now and I no longer hate her as I used to as she proves to be quite a good friend to Mary by going to King Henry's chambers to look for Mary and Francis' marriage contract which contained a secret clause in it despite knowing how dangerous it is now that King Henry is a little off his rocket.
5. Lord Julian and Lola
Such a shame that he was a sham!!!
So, this love story didn't last too long too thanks to a huge secret on Lord Julian's part which he failed to mention to Lola after she told him her little secret that she was pregnant with another man's child. I was a little suspicious since he was still willing to marry Lola despite that fact as a normal man would have freaked out when he found out about that!!!Then, we find out he is actually penniless but Lola insist on marrying him as she is from a rich noble family in Soctland so she can support him and the final cherry on the top, he isn't even LORD JULIAN!!! I loved several scenes with them together as he made her seem like the most beautiful woman in the world plus he was quite charming so it's a shame that he wasn't who he said he was.
THE END!!!