This is a continuing post from the previous post so if you hadn't read it, it's really fine as there's no connection plus you might get annoyed by my randomness of spoiling television shows so start scrolling down pass this post if you're dead bored and just want to read something instead of staring at your Facebook home page which isn't likely to have much changes in the span of a few minutes...
So, in the previous post (a little recap for those who just tuned in) I talked about my past obsession and my new obsession and now, I shall continue rambling about random shows that I am currently tuning into so I hope that I won't get sued for trashing some of these shows because I can't think straight without my cup of coffee...
The Cast Of Downton Abbey Season 4
Why, Matthew, Why???
I'm still into Downton Abbey even though it already has 4 seasons and the main guy character that I liked died tragically at the end of Season 3 which meant only 1 season of happiness for Mary and
Dan Stevens.
..I mean Matthew. Mary is pretty much mopping for Matthew upon his death and I was too that I pretty much had to stop myself from crying when I watched it...I can't believe that Mary and Matthew didn't have a longer happy ending but Mary seems to have her usual line of suitors in season 4 and as much as I try to like them, I can't bear the thought of Mary with another after 3 seasons of a rollercoaster ride with Matthew!!!! Mary also has a baby boy now and he's so cute that I just want to pinch those baby cheeks (almost as cute as Prince George!!!)
What is Mary to do???
The character that I'd always pitied is Edith who seems to be hopeless in love and full of bad luck and Season 4 doesn't seem to be kinder on her...She fell for an older guy who could be mistaken for her father, her editor turned lover has gone MIA in Germany as he's trying to find a way to divorce his insane wife and she's left alone and unexpectedly pregnant that she has to give her kid away...Can anything else go wrong for this girl??? Branson is pretty much a character that I'd grown fond of as he's like an older brother to Mary now giving her advise and helping her along her way to recovery after her lost of Matthew since he did lose his wife, Sybil too in Season 3...
Downton Abbey seems to have a few bumpy roads to overcome next Season with Edith's lover still missing, Anna's suspicion of Bates that he had killed her rapist (Yeah, all the good people here seems to lose out!) and Mary has to try to enjoy life while trying to keep her suitors at bay...Pretty much an average day in the Crawley estate...
Why did I have to suffer this fate???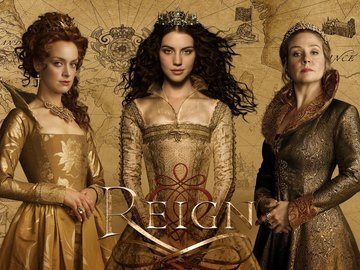 Introducing...Mary, Queen of Scots.Long May She Reign...Not too true
Next, I would like to introduce a show that has me hooked after reading the synopsis that I find myself desperately looking for the episodes to watch...Reign, which is based loosely on Mary, Queen of Scots life in French Court where she has to evade the English, the Pagans in the woods who also sometimes enter into the Castle and a mother-in-law who hates her guts with no just causes..I think she should have remained with the nuns since at least there only the English were trying to poison her...She basically finds her life in danger as French Court is a place where people will smile in front of you but happily stab your back, oh and she's being helped by the little girl who covers her head with a sack and runs around in the hidden passages around the castle...Mary has to get Francis to like her when she returns to marry him after several years in the covenant which he does eventually after not much resistance and then she dumps him to save his life and finally chooses him to marry but not before trying to pass his throne to his half brother, Bash as well as trying to marry Bash to save Francis life due to a prophesy that Francis will die young if he marries Mary...I don't understand how marrying Mary would cause Francis to die but that was basically the plot for the first few episodes...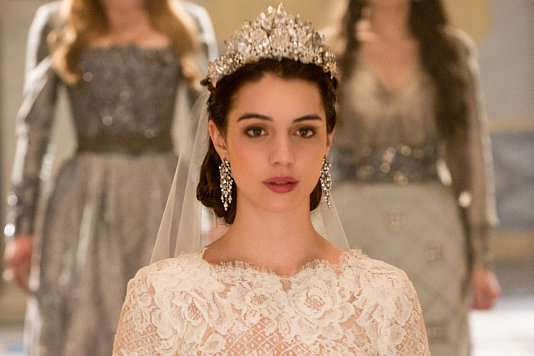 Mary, the confused Queen who doesn't seem to know what's on her mind
Francis, Dauphin of France and King to be
Bash, the brother who can't have everything but wants everything Francis has..
Meanwhile, Francis who is actually suppose to be sick and feeble in reality is portrayed as a strong and active prince who likes going after young rich women at court and he's supposed to be really rational minded which I have to disagree at times because he kept distancing himself from Mary when the outcome was the same...Bash seems to be the loser in this love triangle as thanks to Mary, he loses the girl he loves, gets exiled for trying to reach for the crown of France when it was Mary's idea and is forced to marry Kenna, one of Mary's lady-in-waiting who was the King of France, his father's mistress...That just sounds so wrong but it seemed to be the norm in the past to share women...
Why can't we just get along???
I love happily ever afters!!!
I love Mary for being so headstrong because Francis needs a little banging on the head with the way he handles things with Mary but this baby thing with Lola is seriously killing my vibe...I used to like Lola until she betrayed her friend and Francis is such a dummy for sleeping with Mary's friend...What did he expect out of that??? I love Queen Catherine's fierce love for her son that she is willing to do anything for him even to kill...twice!!! She's exactly what the show needs with her witty tongue...And need I say more about the costumes in the show??? Simply breathtaking although not exactly like the old times because no one used to wear sleeveless dresses and the dresses used to be super big and stuffy...Most of Mary's dresses looks like prom dresses but I can hardly complain...
Look at all the pretty dresses around us!!!
Is she actually serious about pairing that shoes with that dress???
I would worry too if women in the past wore like this...
END OF PART 2!!!